Angela Flores-Marcus: Planting the STEMs for Future Women in Tech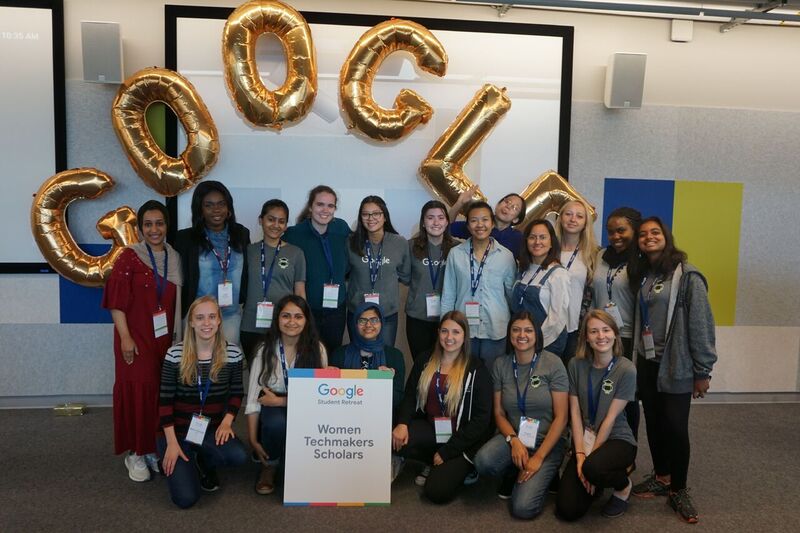 When you read about Angela Flores-Marcus's accomplishments, you are immediately awestruck. Her dedication to her community is apparent through the numerous organizations she has engaged in, including serving as the Vice President of the Society of Hispanic Professional Engineers, the President of Women in STEM club, and Co-Chair of the Queer-Straight Alliance. Her academic excellence is demonstrated by the eleven scholarships she has been awarded and the honor societies she is a part of.
But it is when you speak with her in person that you truly understand the magnitude of this woman's drive and the civility she encompasses in every aspect of her life.
We sat down with Angela this week to discuss her visit with Google at the Women Techmakers Scholars Program and her transition into Seattle University last year.
As part of the Women Techmakers Scholars Program this summer, Angela and ten fellow recipients were invited to attend a four-day retreat at Google's campus in Mountain View, CA. The retreat connects women scholars in the tech industry from all around the world to share stories, to collaborate on solutions to their struggles, and to build a network that will stay intact as they further their careers in STEM.
As the first student from Seattle University to receive this scholarship, Angela said, "I was shocked to have won the scholarship and was excited to meet other women in the same boat and with the same passions as me."
"I was really excited, but also really nervous. There were moments where I felt, 'Is what I am doing in terms of tech projects really impactful? How do I make sure I'm here for a reason, and how do I talk about it?'"
In other words, as Angela described, she was experiencing "imposter syndrome," wherein high achievers feel as though their successes are out of luck and fraudulency rather than earned from their hard work and intellectual ability. This psychological phenomenon is universal, but some research suggests it disproportionately plagues women and underrepresented groups. When Angela alluded to these feelings at the retreat, she was relieved at how quickly it was identified as a shared experience by the other women.
It was made apparent to Angela through these discussions that although the women all had different backgrounds, tech experience, and reasons for being in tech, they shared an observation and a purpose.
"[We] all agreed there is not enough visibility and role models for women in tech, and we all want to find a way to make a difference."
The retreat created a platform to explore these issues and to build a coalition of women dedicated to forging a space for themselves in the industry.
A second facet to the retreat hosted by Google was to promote tech projects with positive social impact, something Angela and her fellow scholars plan to pursue in their STEM careers. They were introduced to specific projects within Google such as Lookout, an app that connects the blind to their surroundings to help them navigate independently throughout their environments, and Project Loon, a balloon that connects people in remote communities or disaster relief areas to the internet.
"The idea of building something so powerful in order to use it to change people's lives forever – that to me is the ideal way to use my degree. It could be easy to develop projects that are cool but not necessarily helpful," says Angela.
"To me, coming from a background of limited access to a lot of things because of my income status, it has always been important to gather as much information as I possibly can to use it in a way that will impact people. It was nice to see at the retreat these things that are possible as long as we are not forgetting about people."
A large part of being an Alfie Scholar is this mentality, Angela explains. The Alfies are a network of individuals devoted to social change as leaders for civility within their chosen fields.
"The reality is that we do so much; it can be a little exhausting. At what point do we take time for ourselves, to remind ourselves about self care."
Self care is an invaluable lesson Angela has taken from the Alfie program that she was able to share with her fellow Women Techmaker scholars who struggle from the same sense of depletion and self sacrifice.
Last year marked Angela's transition from South Seattle College to Seattle University. She entered as a junior and a member of the 2017 Alfie Scholars Cohort. She notes, "It could have been a lot harder of a transition [if I] were not part of the Alfie Scholars."
The Alfie Scholars program helped cultivate a sense of community on campus and introduced her to resources, clubs, and professors that she would not have otherwise found. Starting with Alfie Scholars in the summer enabled Angela and her fellow Alfies to become familiar with different departments and professors and to learn important lessons about preparing for classes and creating boundaries as leaders in their communities.
"It was helpful in building my confidence and feeling like this is a place where I belong," says Angela of her summer quarter with Alfie Scholars.
This month, Angela begins her senior year at Seattle University. She will graduate with a degree in Electrical Engineering with a Specialization in Computer Engineering and remain an active part of her community in the interim, heading the Society of Hispanic Professional Engineers Seattle University Chapter with fellow Alfie Scholar, Jorge Lara Alvarado.
To read more about Angela Flores-Marcus, please visit her bio.